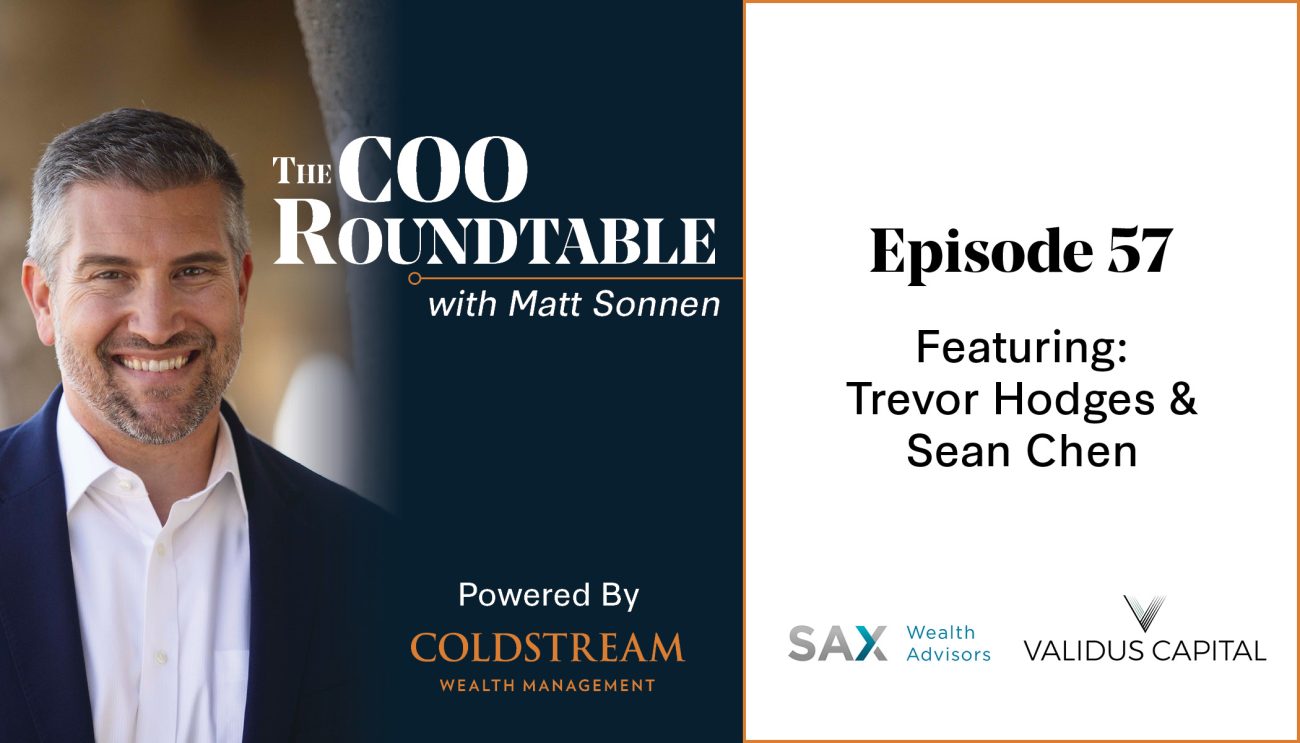 October 4, 2023
The COO Roundtable: Episode 57
In Podcast: The COO Roundtable
Matt welcomes two long-time RIA operations professionals for Episode 57. Trevor Hodges is the relatively new Director of Operations at Sax Wealth Advisors, headquartered in Parsippany, New Jersey with a few offices in the New York and New Jersey area. While he has spent his entire career within the RIA space, Trevor joined Sax Wealth a few months ago. Sean Chen has known Matt since they were both 21 years old and working together at Merrill Lynch, and continued their professional relationship at Luminous Capital. Sean is the COO and CCO at Validus Capital in Los Angeles. Sax Wealth Advisors formed in the late '90s underneath their parent company, Sax LLP, which is an accounting and tax practice firm. Today the firm manages roughly $1.7 billion and employs a team of 21. Validus Capital launched in 2022 out of a predecessor RIA, manages approximately $1.4 billion of client assets, and currently has 13 employees and one remote employee in Texas. Matt, Trevor, and Sean discuss what makes Sean unique among all previous guests on the podcast, how operations professionals can prove their worth in this client-focused industry, as well as:
How they view the systems and processes utilized by their firms
The additional services beyond wealth management offered by both firms to attract and retain more of their ideal clients
How they both leverage portal technology to deliver services to their clients
The importance of CRM for their internal teams and the delivery of consistent and scalable service
Each guest's approach to inorganic growth
We hope you enjoy, share, and subscribe on Google Podcasts, Apple Podcasts, or Spotify.
You can read the full transcript here.