February 15, 2022
Retiring Early? Don't Forget Health Insurance
In Insurance, Retirement, Wealth Strategy
If you're planning to retire early, remember to include the cost of health insurance in your financial plan.
Medicare eligibility begins at age 65, but until that time you'll need to enroll in a private insurance plan.  Be sure to check your eligibility with COBRA from your prior employer as well.  COBRA premiums can be expensive; however, the coverage is sometimes more extensive than what you can purchase on the Affordable Care Act (ACA) exchange.  COBRA coverage is limited to 18- 36 months, so many younger retirees will eventually need to apply for ACA coverage as a bridge to Medicare.
You can choose from three ACA insurance plan types, which offer varying premiums, fees, and deductibles.  If you are fully insured on either an employer healthcare plan or by way of COBRA at the time you apply for ACA, your acceptance is guaranteed regardless of pre-existing health conditions.  Your rates will depend on your age, where you live, your income, the number of people in your household, and whether or not you smoke.  These amounts will be adjusted for inflation annually.  The chart below shows an example of premiums for King County, WA residents as of 2022:
For people who need regular medical care and prescriptions, a Gold plan may be the best option, while a Silver or Bronze plan might be more appropriate for less frequent consumers of health services.  Note that Bronze plans require significantly higher out of pocket spending, which should be weighed against the lower monthly premiums.  All individual plans in the State of Washington are EPO (Exclusive Provider Organization) style plans meaning you must stay in the carrier's network for coverage.
Under federal law, all plans must cover 10 primary health benefits:
Outpatient care
Emergency room visits
Inpatient care
Maternity and newborn care
Mental health and substance use treatment
Prescriptions
Rehabilitative and habilitative services
Lab work
Preventive care and wellness services
Pediatric services
Additionally, insurance providers can no longer deny coverage based on pre-existing conditions, and parents can keep adult children on their plan until they reach age 26.  The Affordable Care Act also prohibits annual and lifetime caps on benefits payments.
Vision and dental coverage are optional, though dental and vision is mandatory and included in all plans for children under age 19.
Subsidies
In some cases, young retires who have a very tax-efficient investment portfolio and are not yet withdrawing from retirement accounts can have surprisingly low taxable income.  The chart below shows which households qualify for health insurance subsidies.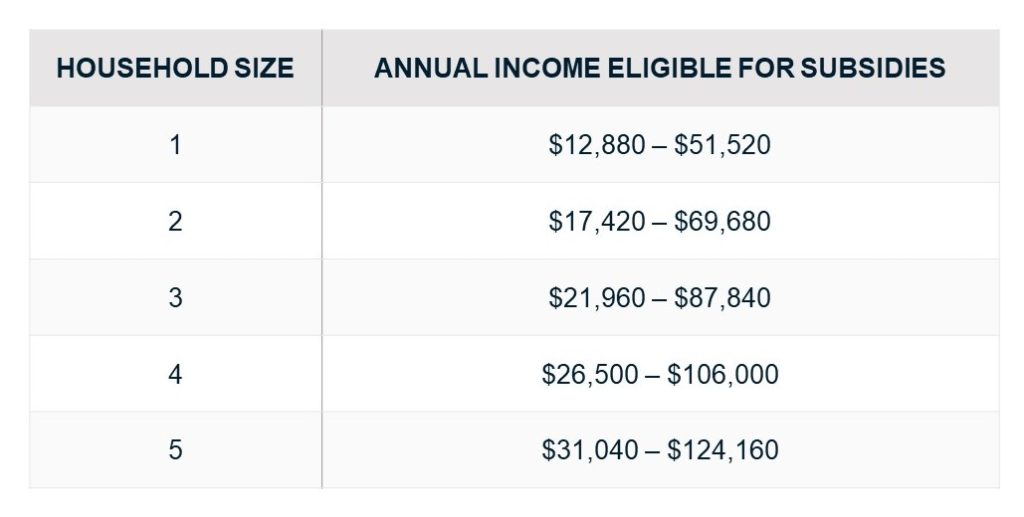 How to Purchase Coverage
In Washington State, you can find general information at the Washington Health Benefit Exchange or sign up for a plan at Washington Healthplanfinder.  The Healthplanfinder site also includes instructions for enrolling in Washington's Medicaid program—Apple Health.
You may also enroll in a health plan through an insurance broker, who can help simplify the process and determine the best plan option for you.  Working with an insurance broker will not increase your rates – the insurance carrier pays the broker's commission.
Open enrollment for individuals runs from November 1 to January 15.  Barring certain life events, individuals cannot enroll in or change plans outside this period.  Enrollment in Apple Health is open year-round.
Cost Inflation
In recent years, health care premiums have risen by about 6.5% a year.  Your premiums will also rise with your age (see the first chart above), as will your overall need for health care.  It's important to budget for those increasing costs and to incorporate health spending into your financial plan.
Thank you to Molly Lanzinger who provided us with these sample quotes.  She is an incredible resource for evaluating private health insurance plans, small business plans, and Medicare supplemental policies.
Your Coldstream Wealth Manager can help you understand your options and how to manage the costs of health care going forward.  We can also connect you with a health insurance professional who can help compare the policy options available and determine the best fit for your situation.
Disclaimer:  This article has been provided for informational purposes only and should not be considered as investment advice or as a recommendation.  This material provides general information only, Coldstream does not offer medical, legal, or tax advice.  Only private health insurance brokers may recommend the application of this general information to any particular situation or prepare an instrument chosen to implement the options discussed herein.
Insights Tags